Roe Valley Country Park

This beautiful forested park contains the site of the old town of Limavady and O'Cahan's castle and where the legendary leap of the dog gave rise to the name Limavady. The park is also the site of the first hydroelectric scheme in Ireland and contains many 18th century buildings. Some associated with this and the linen trade have been restored as museums. At the centre of the park is a visitors centre with displays about local history, flora and fauna and a small cafE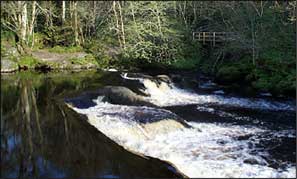 The park follows the beautiful river Roe and culminates at Carrick Rocks with an old parish church perched on a ledge above a wooded gorge and a swing bridge over the river. There are numerous beautiful riverside walks through the park, allowing the visitor to see and hear the gorgeous flora and fauna of the region. The park is also an ideal place for abseiling, canoeing, orienteering, fishing, rock climbing, running and numerous other activities.
Bishops Road

The Earl Bishop of Derry built this scenic route from Downhill to Limavady. It winds past Mussenden Temple, over Eagle Hill and Binevenagh Mountain and provides spectacular views of the region. This road also provides access to Binevenagh Lake on top of the mountain with a small car park, picnic area and good fishing in the lake itself. Views from the nearby cliff over the coast and moorland are outstanding.
Banagher Glen

Just 3 miles to the west of Dungiven are the magnificent Banagher Lake, forest and peat bogs. The glen has panoramic views and is an ideal spot for walking as it has an interesting variety of flora and fauna, particularly birds. It is one of only three places in Ireland where original forest still survives.